Description
Join us to experience two examples of local leadership in high-performance homes: one involving new construction and the other related to retrofits.
Winton Homes
The recent update to the BC Building Code requires higher levels of energy performance for new Part 3 and Part 9 buildings.
The demonstration building at Winton Homes showcases the potential for meeting current – and future – requirements using local building materials. We'll learn how Passive House insulation and airtightness specifications as well as BC Energy Step Code net-zero energy ready (Step 5) performance targets, can be achieved in Northern BC's Climate Zones by using high-performance prefabricated panels.
The demonstration project was funded by CleanBC as part of its objective to accelerate availability and affordability of low-carbon building solutions. The visit to Winton will also feature the prefabrication process for wall assemblies.
Family Residence in the Crescents
David Claus (mechanical engineer, self-professed energy geek, and Director of Facilities Management and Capital Planning at UNBC) has been involved in two Passive House projects for the University, and is now attempting to do something similar with his family's home.
This project takes an existing 100-year old house (small, 1 ½ story with a basement) and will retrofit insulation, airtightness, and new windows to create a high performance building envelope cost-effectively. At the same time, an addition to the house will demonstrate high performance envelope techniques in new construction. Beyond air and vapour membrane details, the project encompasses a ductless mini-split heat pump, high efficiency heat recovery ventilator, and a natural gas boiler for domestic hot water (and to run the "world's smallest district heating system" that supplies the detached garage and greenhouse). The renovation is just beginning and David will provide an overview of his experiences so far and the schedule ahead.
A BC Hydro representative will be present at both sites to answer any questions on how BC Hydro is supporting energy efficient, low-carbon new construction initiatives in the North. Participants will board a bus at the Prince George Conference and Civic Centre at 9 am and be dropped off back at the Civic Centre at the conclusion of the tour, no later than noon.
There is no cost to participate and some refreshments will be provided. This tour is supported by BC Hydro as part of the Building A Legacy North initiative, a collaboration of the Community Energy Association and CHBA Northern BC.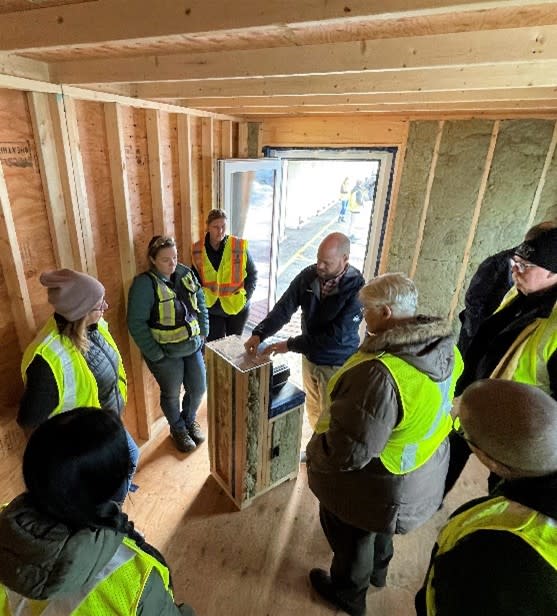 Made possible with generous sponsorship by

Presented by: