Description
7.5 CPDs pre-approved by BC Housing
A printable flyer is here
This one-day course will take a deeper dive into the BC Energy Step Code metrics for Part 9 buildings and how to achieve Step 3 and higher through design and building techniques to minimize extra cost. The content will focus on practical strategies for effective design, proper selection and installation of mechanical systems, and airtightness. Using real world examples and different housing archetypes from local climates, we will examine why some projects fail while others pass easily. This session is geared towards home building and design professionals. Instruction will assume a basic understanding of the BC Energy Step Code.
TOPICS COVERED INCLUDE
• Design and material considerations for Step Code compliance
• Tips to communicate with mechanical designers and mechanical trades to ensure properly-sized and installed HVAC equipment
• Airtightness best practices, testing process and checklist
• Strategies and solutions for a cost-effective air tightness result (renovations & new builds)
The class will participate in a blower door test. This will include hands-on preparation for the test, highlighting common problem areas as well as strategies for improvement and repairs.
MEET THE PRESENTERS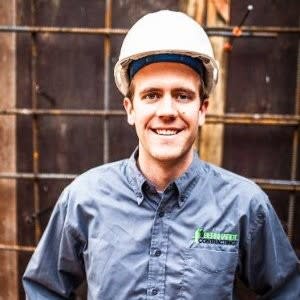 Mark Bernhardt
PRESIDENT, BERNHARDT CONTRACTING
Mark is the President of Bernhardt Contracting Ltd., a licensed builder based in Victoria BC. In 2012, Bernhardt Contracting built the first Certified Passive House on Vancouver Island, and has since gone on to build or consult on dozens more. Mark is also a Certified Energy Advisor and Passive House Consultant, and over the past year has spent much of his time helping other builders gear up for Step Code and higher performance buildings.
Joe Hart
FORMER BC CANADIAN HOME BUILDERS' ASSOCIATION PRESIDENT, Joe Hart, is a member of CHBA Northern British Columbia and previously served as its local president from 2017-2019. He is a founder and CEO of Icon Homes Ltd. since 1995, offering both new homes and renovations to Quesnel and Cariboo region as a licensed residential builder. With experience in starter homes, developments, and custom homes, Joe is an excellent voice for CHBA BC's membership when advocating on provincial issues. In 2018, Joe's company initiated the second net-zero energy home in northern B.C. in order to trial energy-efficient processes in a northern climate.
WITH GENEROUS SUPPORT FROM: